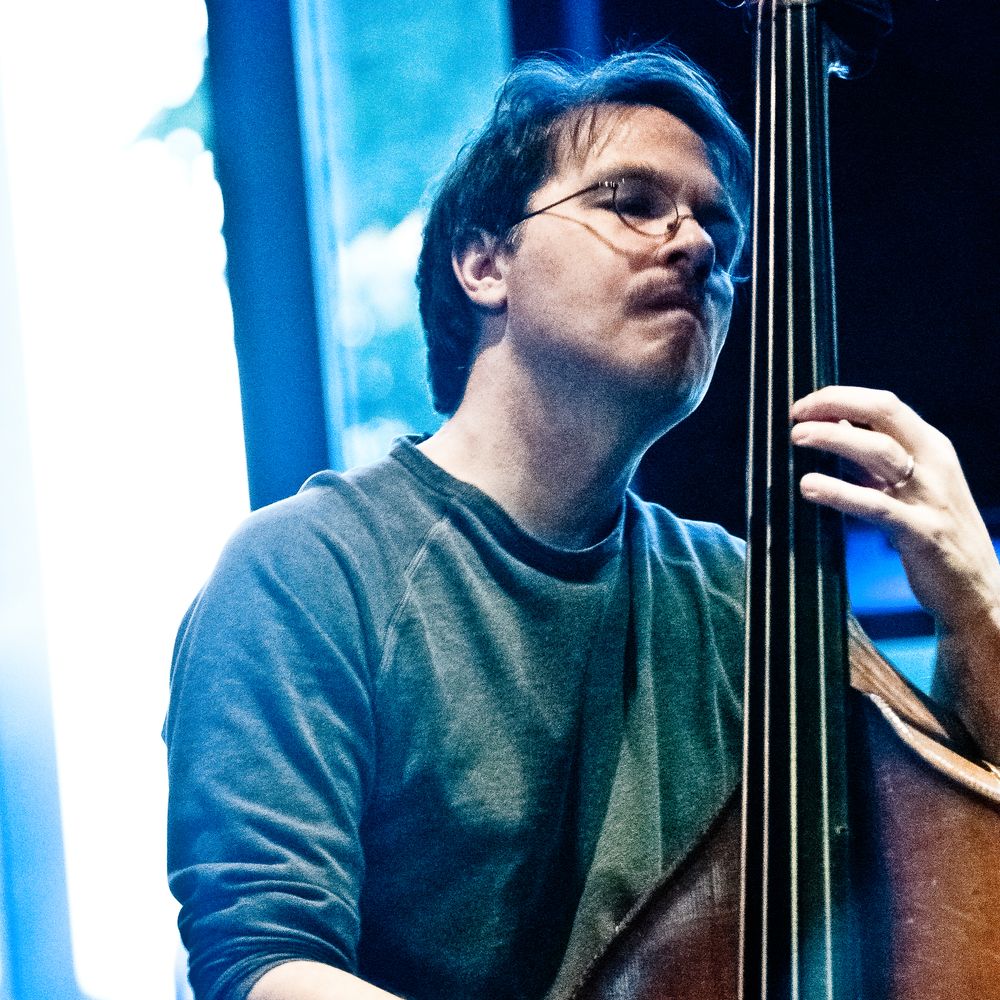 Mark Perna
Bassist, trombonist, and producer Mark Perna regularly performs regionally with some of the finest performers in Pittsburgh and the surrounding areas and has performed with some of the finest performers in the world including Richie Cole, Emily Remler, Walt Harper, Reggie Watkins, Rodger Ryan, Matt Parker, Joshua Breakstone, Ron Affif, Leslie Smith and Don Aliquo,

With singer/songwriter Leslie Smith, he opened the 1996 Newport Folk Festival and followed that with a headlining spot in the 1997 Kerrville Folk Festival in support of Leslie's album "These Things Wrapped" in which he also appeared.   Between 1997 and 2010, he released six albums of his own music featuring some of the best musicians in Pittsburgh including Eric Susoeff, Mike Sakash, Eric Defade and Tom Wendt.  He produced and played on three albums by singer/actor Jack Erdie.  He has produced and played on two albums by singer Peter King and is currently working on a third.  He has performed with and appeared on albums with famous folk singer and activist Anne Feeney and is currently working on an album of new material with singer/songwriter Christopher Mark Jones with whom he performs on a regular basis.

One of the groups that Perna started in the mid-2000's, Perna, Sakash, Susoeff & Wendt, released it's first CD in 2005, it's second in 2006 and then Mike Sakash moved to Maine and the group went into hiatus.  That hiatus was broken in August 2016 when Perna realized that Maine was only a couple of states away and they have these things called airplanes now that allow very fast travel.  Quickly taking advantage of this newfangled device, Perna booked Mike Sakash on a flight and on August 8 and 9, 2016, PSSW reunited for the first time in 10 years for a recording session at Heid Audio in Aspinwall, PA.  Richie Cole joined the band for a couple of tunes on August 8 and trombonist Reggie Watkins joined in for 3 tunes on August 9.  They recorded enough material for a new CD which will likely be released before the end of 2016.  They've already scheduled their next sessions for November 11 and 12, 2016.
 
In 1997, he started his most musically fruitful relationship to date with Pittsburgh jazz legend, saxophonist Don Aliquo.  He produced two albums for Don in the late 1990s.  He is currently putting together archival material recorded with Don between 2002 and 2010 for seven albums to be released between October 2016 and May 2017 in celebration of Don's 87th birthday.  The albums feature stellar work by Pittsburgh greats Ken Karsh, Victor Garzotto, Mike Sakash, Kevin Moore, John Schmidt, Ben Opie,Tom Wendt, Eric Susoeff and one album features the final recordings of master drummer and pianist Rodger Ryan who passed away in 2005.

Since 2013, he has played trombone and bass in the improvisational klezmer band Klezlectic. Klezlectic is the brainchild of clarinetist Janice Coppola and includes the world famous tuba-ist Roger Day and Palmetto Records recording artist Jeff Berman on drums and percussion.  The band takes a jazz-like improvisational approach to klezmer music which produces a unique hybrid of styles.  Perna is also producing an album for Klezlectic to be released in 2017.

He is currently producing a new jazz duo recording with pianist Jenny Wilson and he recently executive produced Reggie Watkins' 2016 release Avid Admirer (buy it at reggiewatkinsmusic.com--it's really fantastic and features monster players like tenor saxophonist Matt Parker and pianist Orrin Evans).  He's also playing several times per month in the Johnstown area with Jazz Trip which is a collective group featuring Joshua Ben and Zach Bodolosky with a revolving series of singers and instrumentalists.

He began playing bass in Richie Cole's Alto Madness Orchestra rehearsal band in the Fall of 2014 which began a musical relationship that has included hundreds of gigs and recordings and many hours of road travel.  Perna reports that there are worse things in life than being trapped in a car for hours at a time with a genuine jazz legend who has millions of great stories.  In 2015, he began producing new recordings for the now named Pittsburgh Alto Madness Orchestra. The Orchestra currently consists of Reggie Watkins-trombone, Rick Matt-tenor saxophonist, J.D. Chaisson-trumpet (who are collectively known as the Steel Town Horns and can be heard backing up touring bands all over the country), Vince Taglieri-drums, Eric Susoeff-guitar, Patrick Whitehead-piano with Perna on bass.  From February through November 2015, the Orchestra recorded enough material for three CDs.  The first of which, "The Many Minds of Richie Cole", is scheduled for a late 2016 local release and a national release in 2017. The as yet untitled second album is currently in the mixing process.  In September 2015, the Steel Town Horns received a gig offer for a date corresponding with a scheduled Orchestra recording session.  Perna told them to take the gig and then used the time to record Richie with the Pittsburgh Alto Madness Orchestra's rhythm section minus Whitehead.  Perna reports there was no plan going into the session and, in fact, it was expected that the recordings would go into the archives for some future use.  After the session, Perna noticed three things: 1. 8 of the 11 songs recorded that night were ballads, 2. the band, working without any pressure, played their asses off and 3.  after a quick check of Cole's discography discovered that Cole had never released a dedicated ballads album.  Perna approached Cole with the idea of releasing the quartet recording as a dedicated ballads album; an idea that Cole readily agreed to.  Before the next Orchestra recording session, the band recorded three more ballads and Richie Cole Plays Ballads & Love Songs due to be released on October 21, 2016 on the Richie Cole Presents label was complete.  In addition to being Cole's first ballads album, it is also the first album that he's made with only a guitar for the chordal instrument; a choice that lends a delicate poignancy to the recording.

Perna plans to continue playing and recording with Richie Cole, Peter King, Don Aliquo among others for as long as he can do it.